Workplace safety is important to all. By design, all Hermary products are Class II (or Class IIM) laser rated.
Reading and Understanding the Laser Safety Label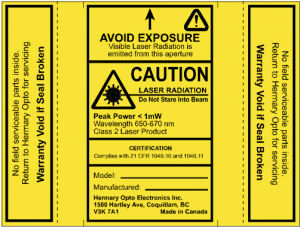 All industrial laser products require a label (similar as seen above) indicating laser classification level. The only additional requirement for Class II rated products is the identification of the laser emission aperture.
Products employing higher-powered lasers (Class IIIB and Class IV) require personnel protection measures such as worker access barriers, mechanical blocking mechanisms, lockouts, and visual indications when lasers are turned on. For systems using greater than Class II Some machine vision manufacturers shift responsibility for laser safety by stating that their products are only components of a system, hence relying upon others for safety compliance.
Through careful design Hermary is able to meet performance requirements while staying within the Class II requirements, allowing for safer operation.
The University of Kentucky has a comprehensive article on laser classifications here.